While not the most famous or successful NPB organization, one team almost always seems to sneak its way into the conversation: the Tokyo Yakult Swallows. The Swallows' passionate, umbrella-toting fanbase and cozy, historic ballpark located in the heart of Tokyo combine to make Meiji Jingu Stadium a fun outing for anyone visiting Japan. The sentiment is not just shared among fans, as former Swallows' import players have reflected well on the organization, saying Jingu Stadium was one of their favorite places to play and that the organization treated its foreigners extremely well. On May 7, three of these players – Lastings Milledge, Aaron Guiel, and Tony Barnette – joined JapanBall's "Chatter Up!" to discuss their fond memories of the club, including their time playing at Jingu, and what made the experience so unique.
To read a recap of this conversation, check out the link here, or you can watch the full video for yourself on our YouTube channel.
Shane:
Alright, so now I'm going to introduce our three guests. I'm sure most of you are familiar, but I want to go through their bios, just so that you all can familiarize yourself, and also maybe spark some questions for you. Let me just put you in the spotlight here. Alright, Aaron, you're up first. Aaron Guiel was born and raised in British Columbia. He played baseball in the Vancouver area through Junior College. The California Angels drafted him in 1992, and so began his winding international baseball journey. By my count, Aaron played for nine teams in eight different minor leagues, including in Mexico, but not including the many international tournaments he played in representing Canada, before finally earning a spot in the big leagues with the Royals in 2002; that was his 10th professional season, so a classic, feel-good big league debut there. He was a power-hitting outfielder with the Royals, and then the New York Yankees through '06, and then he signed with the Yakult Swallows in 2007. He made an immediate impact, hitting 35 homers in his first year, and with his blond locks, respectable demeanor, and power hitting ways, he became a fan favorite of the Jingu Stadium faithful, who dubbed him "Angel," if I'm not mistaken. He played five seasons with Swallows, hitting 90 homeruns in all, and retired at the end of the 2011 season. He is now a scout and advisor with the Swallows. So that is Aaron Guiel, good to have you on here.
Aaron:
Thanks, Shane. Thanks for having me.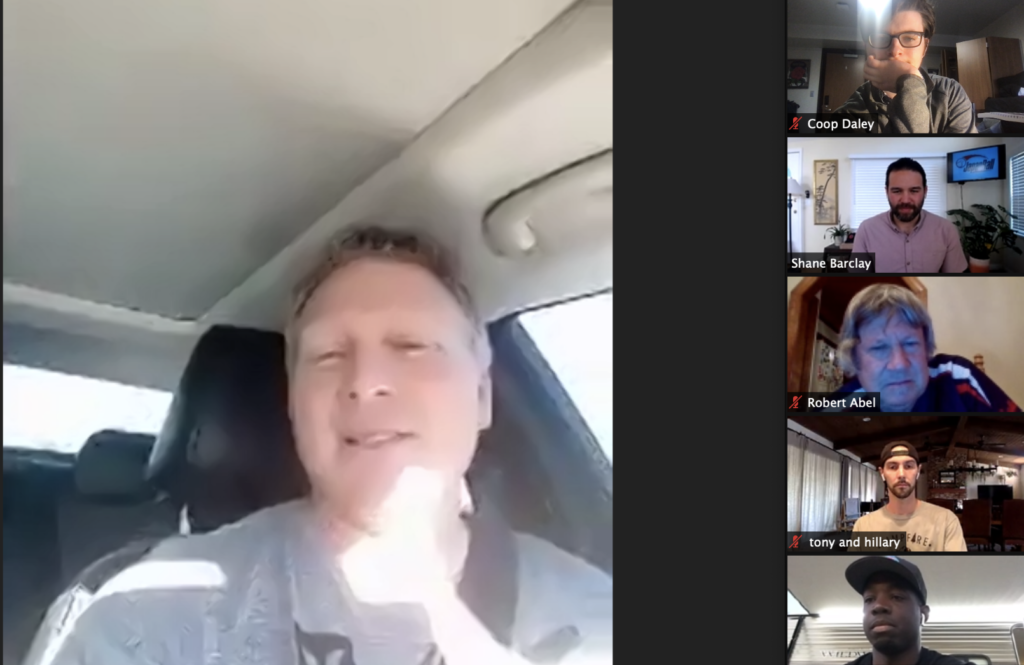 Shane:
You're welcome. All right, so next, we're gonna go with Lastings Milledge– gonna put you in the spotlight so everyone can see it. Hey, Lastings.
Lastings:
How are you doing?
Shane:
All right. So Lastings Milledge first burst onto the international baseball scene as a 12-year-old phenom, leading the Manatee East Little League team [of Florida] to the USA Finals. Then, at age 16, He led the US to a gold medal at the World Youth Championships, so he was already a big deal and, by high school, his five-tool talents made him perhaps the best high school player in the country, and a first round pick of the [New York] Mets in '03. He shot through the Mets' minor league system, and made his big league debut in 2006 at just 21 years old, and he was the youngest player in the [National League] that year. Over the next five years, he was traded twice, to the [Washington] Nationals then the [Pittsburgh] Pirates. He eventually landed with the [Chicago] White Sox in 2011, but it was the next year [when] he signed with the Swallows in Japan, and had a career year, hitting .300 with 21 homers, which subsequently earned him a three-year contract with the Swallows. Unfortunately, [he] had a little trouble staying healthy for those three years, but nonetheless, played four years with the Swallows, and then played a little bit of indie ball before hanging up the cleats in 2017. Now, Lastings is "Coach Lastings" at 1st Round Training in his native Bradenton, Florida, so I look forward to hearing more about that later on the call. Lastings, thanks for joining us.
Lastings:
Thank you. It's a pleasure.
Shane:
So next, last but not least, Tony Barnette; let me put you in the spotlight here, Tony. All right, so Tony was born in Anchorage, Alaska, lived there for a few years, and then went to the state of Washington, and then ASU, Arizona State University. The [Arizona Diamondbacks] drafted him in 2006 out of ASU. He steadily worked his way up the organizational ladder, before being offered a contract by the Swallows for the 2010 season. His NPB career really took off in 2011, when he was moved to the bullpen, and he became one of the most effective relievers in the Central League for most of the next five years. He was an All-Star in 2012, when he led the league in saves, but it was his 2015 season that I think will forever endear him to Swallow fans; he had 41 saves and 59 dominant outings, helping the Swallows to their first pennant in 14 years. That year, he not only was an All-star but finished third in MVP voting. The Texas Rangers took notice, and lured Tony back to the US with a two-year Major League contract. In that first year, he was one of the most reliable relievers, really, in all the big leagues, with an ERA right at 2.09 in just over 60 innings, and allowing no runs in four playoff appearances with the Rangers. He played two more years with the Rangers, then retired after a season with the Cubs in 2019, and he currently works as a scout and advisor for the Swallows with Aaron. So Tony, good to have you on.
Tony:
Hey, happy to be here. I wish I was where Lastings is, out camping. I'm sitting here in my house, I was thinking "Oh, this guy is just gonna flex on me like that?"
Lastings:
No, no, you know I won't do that to you.
Shane:
Lastings, you've got to give us a tour of the trailer there at the end of the show.
Lastings:
We'll see what we can do.
Shane:
Alright, so I want to start things off just at the beginning of Japan for you guys, and just hear from each of you: how the opportunity to go to Japan came up, and what your decision-making process was like, when you finally decided to sign. So Lastings, we'll start with you.
Lastings:
I feel like when the opportunity presented itself, I felt like I'd reached my goals, I reached my dream of playing Major League Baseball. I definitely would have wanted to complete 10 years, but unfortunately, I wasn't able to, but I definitely had the dream, lived the dream. At that particular moment, I just met my wife– she was my fiancé then– and it was an opportunity to really jumpstart our new life and our new family, so it was kind of a no brainer. And then also, I just wanted the opportunity to play every day… The last three years in the big leagues, I was a platoon guy, reserve guy, which I don't frown upon, but you know, I just wanted to go and see what I can do in 142 games, and [the Swallows] gave me that opportunity. So as far as accepting the assignment, I mean, it was a no brainer for me. I am an international guy; anytime I get to travel the world, I definitely jump at the opportunity. I was able to travel and play baseball at a young age with the USA teams and things like that, and travel the country, so, when Japan presented itself, it was a no brainer, and a pretty easy transition to go there.
Shane:
Right on. Tony, how about you?
Tony:
I'm on the opposite end of the coin of where Lastings was coming from, in the big leagues… hadn't been there yet. For me, it was a big decision at the moment, I was right out of AAA at 26, and through a string of text messages from a teammate of mine, a guy named Bobby Korecky, who used to pitch in the big leagues. He had texted me saying, "Hey, there's a Japanese agent that would like to get into contact with you." That happened to be Don Nomura, who spoke with my agent at the time, they just kind of met. At that moment, I was Rule Five [Draft] eligible, and being young and confident in myself, I was like, "Man, I'm going to get picked up, I'm going to the big leagues, it's happening. Japan can wait a little bit." Rule Five came and went, and my confidence took a quick turn. Japan became really real at that moment, I was facing down the barrel of… "let's go back to AAA, and maybe make it, I'm still on the rookie contract making peanuts, or let's take an opportunity and go to Japan, and possibly springboard my career a little bit more, let's go play. Let's get on a bigger stage." Because I thought I was ready for a bigger stage, and I think Japan gave me that opportunity. Again, I went to Japan that first year and kinda got punched in the mouth a little bit, but the decision for it was tough for me, because I didn't know what I was. I thought I was giving up my dreams of playing in the big leagues at the time. You look into the future of what could have happened, it would have been great, but at the time, as a 26 year old, I thought I was giving up a lot more than I knew, and it was a big decision for me at the moment. But you know, looking back, I sure am glad I decided to make that jump.
Shane:
Cool, cool, thank you. Alright, Aaron how about you?
Aaron:
Yeah, it's kind of a similar story as Lastings and Tony. I was a 10-year minor league player that got released, ended up in Mexico and had been tossed around to all sorts of different places, and just resurrected my career in my late 20s. I really didn't think that there was an opportunity for me to play in the big leagues and or Japan, and then as I improved in AAA, there started to be conversations, and once it got on my radar– it was probably three or four years before I ended up going– I started to talk with guys. I knew George Arias who was with the Hanshin Tigers, I knew a few guys that have been over there, and they just said what an amazing experience it was, how they loved it, how it was great for their families, so it was something. I was in AAA doing well, just as the guys were talking about, you're looking for that dream, to get to the big leagues, not sure if it's ever going to come, and you're looking around and you see all these minor league guys just trying to get to the same thing. So it was something where I did want to get to the big leagues, I wanted to hold out for a little while, and fortunately I was able to get up there. But I had maybe some conversations about that a few years before I got to the big leagues, and then when I got called up as a 29-year-old rookie, that kind of got shelved. But ultimately, in 2006, when I was traded to New York, I really knew that, at my age– I was in my early 30s– that those days were coming to an end, where I was going to be a focus guy. And for me, I had a new family, just like Lastings was talking about, and I was tired of being a 25th guy on the roster that was going to go up and down, and Japan was an opportunity for me to actually be the go-to guy, to be somebody that's going to be starting, someone that's going to get 500 at-bats with no question, somebody that was going the team was going to rely on, and allow me, as I'm married with a new family, to actually have some financial stability for my family, so that I could finally catch my breath, because as a 29-year-old and to get to the big leagues at 30 years old, just from my experience, sitting in a hotel room after an 0-for-4 day with a couple strikeouts, the stress level can get pretty high. Going to Japan, I knew, was an opportunity to be able to enjoy it, relax, know that the team is relying on you and had a contract that you could rely on. Again, like you guys are talking about, in hindsight, it was the best decision I made, because it was probably the most memorable moment I've had in my entire career.
Shane:
That's awesome. Lastings, you mentioned you're an international baseball guy, playing for Team USA, and Aaron, I know you played for Canada a lot. How did those experiences help you prepare for going to Japan?
Aaron:
Growing up in Canada– obviously a different country– there's just a little bit of a different perspective of other nations. A lot of Canadians traveled to Australia, Europe, Asia, things like that, so it's a little bit more common in Canada. Lastings played for [Team] USA, which is obviously the best of the best. I had the opportunity to play for Canada… we're not ranked, we're probably top 10, so it's a little bit easier for a player like myself. I wasn't at the level he was when he was making that opportunity; in Canada, it was a little bit easier to make that team. I ended up in Taiwan playing for Canada, played in a couple of international tournaments and the World Baseball Classic, so I'd been over there. Playing for your country and going overseas, you do see other cultures, it gives you a massive amount of respect for the way for other people, not only [how they] live their life, but also play baseball. I think it helped me, so that transition going from Major League Baseball into Japan for me was not a difficult one, and in fact, I was excited for it.
Lastings:
I'm kind of a little of the opposite. There was just nothing to get you ready for Japan, let me tell you. Especially having time in the big leagues and going to Japan, it's a big adjustment. I had a lot of learning curves; I learned from Tony, I learned from Wladimir Balentien, I learned from those guys, what I can do, how [the] Japanese way is different, [how it] is a different brand of baseball. I was adjusting [until] my last day there. I was very, very grateful; when I look back at it when it was all said and done, I think a lot of things can get missed, a lot of experiences kind of get dirt thrown over him when you're on the move, when you're going from Tokyo to Hiroshima and things like that, and you're moving around and you're trying to stick and you're trying to stay… I think a lot of experiences kind of get dirt thrown over him, but when it's all said and done, man, you're talking about adjustment. That's the biggest adjustment I've ever made, and I was really only in the beginning. Tony was there a couple years before me, Wladimir was there a year before I was, and Aaron was doing his thing before I even got there. So what an adjustment, and what an experience. At the time, I didn't think how much I'd be so appreciative of that opportunity, but now with all the little kids that I trained looking up to me, and things like that, I really cherish that moment, man, it was a great experience.
Shane:
Is there anything from your time in Japan that you find yourself thinking about when you're working with the kids? Anything about the Japanese game, or their training– whether it's good or bad– that you've learned or implement now?
Lastings:
The work ethic, I think. We think we work; we're nowhere near, we're nowhere close. When I'm teaching the kids, honestly– and no kidding– I always think of Tony, because when I got there, I always told Tony, "you're a big league pitcher, man." I don't know if he believed me or not, I don't know if you think I was blowing smoke. But there's kids that are not "on the radar" kind of guys, but they work hard, and you can see something, and I always compare that to Tony when I got there, because Tony was a veteran, and I had to learn from Tony, but Tony wanted to be where I once was, which was still getting to the big leagues. So we had some things to give to each other, and like I said, it's a lot of guys in my organization that don't quite have the talent, but I see something, I see the "it" factor, I see something where they can be something in this game; they can be a force. Of course, at this particular time, we don't know how these kids are going to grow and project, but it's something that I see in those kids– that I always compare to Tony– that maybe they don't see. I don't know man, I've just got so many experiences to share… we'll honestly need four or five hours on this thing, man.
Shane:
Tony, with these two guys on the call, is there a specific memory you have? When you find out these guys are joining the call with you, is there something that comes to mind? A specific vision from your time in Japan with them?
Tony:
Well with Aaron, I'm gonna see him on Monday, he lives right down the street, now we work together, so I'll see him on Monday. That's whatever, but when I saw Lastings, I got giddy. It's funny that you asked about a certain thing… It comes to mind quite often whenever Lastings comes up in conversation with me. I remember standing in the Nagoya Dome with Lastings and he's in left field. There's like five spots that the outfielders have got to be in, whatever they got going on, and he's standing in these spots and you see him working in his mind. He's just talking out loud. I'm just standing back there shagging to mess around, he's just talking it through, he's talking stuff at the wall, and he's talking at me, but I'm not saying anything back, he's just talking at me; he's talking to himself through me. It's funny to me, because I just see Lastings just working in the outfield, and you love to see that as a pitcher, you love to see it as a ballplayer when he came over there. It gives me goosebumps thinking about stuff like that, because I love those moments when you're out there, and there's nobody else in the world, and it's your job, it's your time to work. Lastings is out there, he has what he's supposed to do, and he's just doing it by himself, just talking out loud like a crazy person, walking in the outfield, and that's what we do. As ballplayers, we get kind of crazy at times, and it takes a little bit of "nutso" to make things make sense for us sometimes. I love those moments, little moments like that, stuff that nobody would ever see in the world. Times like that before the game, or things that I cherish a lot about former teammates and stuff. Like with Aaron, there's a video of me and him playing catch on the backfield down at Nagoya [Dome]. We're just playing catch, messing around, but we're talking real baseball. I'm talking things over with him as a pitcher, and a hitter coming back and forth, the age difference there, the cultural difference from Lastings coming from the big leagues, and me not being there. We had our arguments about who can do what, and what can be what, things like that, but again, like he said, there was a give-and-take there; I had something to offer him, and he had a lot to offer me. And when you're in Japan, you have a set amount of guys that can potentially speak your same language, [and] you tend to converse with them a lot, and you start to get into stuff a lot with them. If you can't be open minded with what they have to give, then you're kind of setting yourself up on an island on the island, and that can be a lonely place to be. So that time in Nagoya Dome, standing in the outfield, listening to Lastings rant like a crazy man about outfield positioning… stuff like that puts a smile on my face.
Shane:
That's awesome. You mentioned that you and Aaron see each other a lot. Can you talk about what your jobs are now with the Swallows?
Tony:
Well, man, the last year obviously took a crazy turn for everybody with the pandemic going on, but in reality, Aaron and I will be traveling around and watching a lot of AAA games just scouting players, really just kind of giving our input on what we can see, trying to find the next Lastings Milledge, Aaron Guiel or Tony Barnette; one of those guys that is going to show up and produce right away, be a good fit on and off the field. Yakult is interesting, it's fun. I've got a soft spot in my heart for Yakult, it's a special place, and I think it takes some special people to play there. It's a cool place to be, and man, once you get inside those doors, it has a big different feel from a lot of the other clubs around the league, and playing in Jingu, with the umbrellas and all that, man, it can be special. So finding that right person, that right fit, it's something that Aaron and I are looking forward to doing. We're looking forward to getting out, hitting the road and traveling a little bit, which we haven't been able to do in the last year.
Shane:
Yeah, I want to get back to that. But Aaron, what do you look for? Obviously Tony said you're looking for someone that can produce right away, but how do you evaluate whether they're going to make it, through an adjustment and cultural perspective?
Aaron:
Yeah, that's a great question, and I think anybody that's listening to Tony talk about his story, or myself, or even Lastings, it's not just a matter of trying to find that person that has an overwhelming amount of physical ability in playing in the US and just has an easy path. For Tony and I, our job is really to give a different perspective from the team, because our team's been pretty good, and the Swallows always seem to draft good people, or sign foreigners that are good people, because if you can have a lot of talent, that player could produce. However, people that follow NPB know that certain players have gone over and played in Japan, and it's just been a very poor fit, and it's not because physically they can't do it– because Japan, the baseball there, it's excellent quality– you're going to struggle at times and if you're a good person, a good teammate, you're mentally tough, those factors there will help you bounce back and get back out of it. When I was talking about my transition, I was excited about it, because I was also 34 years old. Lastings had different experiences, but I was excited about that. Once you get over there, as he said, there's a ton of adjustments that need to be made, so that you can adjust to life off the baseball field; getting to the field, the way the coaches coach, egos, personalities, the way that baseball is played, the fans, the stadiums, the travel, all those things are part of that experience that we were talking about. For Tony and I, we can find players with talent, but it's just as important to find players that are willing to go over there that have those intangibles that will make them successful, because if you are having reasonable success on the field, but you are miserable away from the field, because you're spoiled from the major leagues, or you can't get your right food, then that will translate, that will spill over onto the field, and vice versa. The reason why Lastings was successful, why Tony was successful and why I– hope– was successful, is because we were grateful for the opportunity. We were humble, we realized how blessed we were to have that opportunity. So when we go and we scout players to do that, we're actually looking for not just talent, we're looking for players that will make those adjustments, that will be appreciative of Japanese culture, that will adapt to adversity, that will melt with the team. Also with Japanese teams, there is a oneness (wa) and if you are standing to your side while the rest of the team is doing their thing, that's not going to work, you won't be welcomed. But if you're humble, as Tony and Lastings will tell you, the Japanese players– even though language is an issue and the culture is so different– you are welcomed into that oneness, and it is an awesome experience. So to kind of answer your question, we're looking for players that not only have that talent ability, but we need to ask them questions, and evaluate them on a personality perspective, so that, when and if we put them into that roster, we know that they're prepared, but also that they're the type of mix that's going to go well with our team.
Shane:
Love it. All right. Jim Allen's on with us– Jim good to see you– and Jim's got a question.
Jim:
Yeah. Thanks, Shane. Good to see you guys. Haven't seen Lastings in a long time. Glad to see you're all doing well. My question– if I'm going to pick one because I've got 100– what was the hardest lesson for you to learn in Japan, that looking back now, was maybe the biggest thing you learned there, but at the time you were going, [was like] either "I don't need this" or "I don't want to."
Tony:
I'm gonna say the subway to Toda. The hardest thing to get to know right there, taking that you'll walk to Gaienmae, down the stairs, off the Gaienmae, Shibuya, down the stairs, up the stairs, down the corridor, onto the train, wondering "did I get on the right one? I don't know. It's 6:15."
Aaron:
You're making me sweat just thinking about that.
Tony:
Hey, but I tell you what, that route had snacks and good drinks all the way from A to B. But in all seriousness, Jim, I think one of the hardest things for me, coming in– I learned it really quick too, after one of my starts– I got taken out in the third inning, I believe it was. It was my first year, and I wasn't happy about it, and I was kind of storming around in the back underneath the dugout, feeling a little pretty selfish. I was young and I just kind of lost my head a little bit, and Aaron just pulled me aside and he was like, "Hey, man, you need to take a breath. There's things that you can do in the States that are accepted, and there's things that you can do here that are accepted, and on the other side of the coin, there's other things you cannot do here, and there's things you cannot do there." We just kind of had that talk right there in the tunnel about some certain things, and a lot of that had to do with me learning myself and some of the temper that I came with, and you guys kind of saw over the years… believe it or not, I think that tempered over the years. It really was about taking a step back, and taking a deep breath over there, and that was tough for me because I wanted to go, and you thought that you had one chance, one moment, [that] you have to make the most of it; if you don't, it's done. But keeping that in the big picture of things, that there's always tomorrow, take a deep breath. And sure enough, man, the next day, you come in and they just want to get back to work, and want to help you get better, get back and get ready for that next start. So for me, it was just accepting the process, which is kind of tough to do over there, considering that they want you to produce right away. So staying within myself, taking deep breaths, accepting what you can. I guess what I'm really trying to say is, just knowing that you've got to keep your cool, and you've got to keep your head about you, because, hot tempers aren't gonna get you very far over there. In the States, you can get away with it as long as you perform, but like Aaron just touched on about who you are on and off the field, that matters in the clubhouse as well. If you're a hothead, storming around all the time, guys aren't gonna want to be your friend. So for me, it really was just staying within myself, and accepting what I can over there and just going with it, and showing up the next day and getting ready to work, regardless of the outcome the night before.
Lastings:
I think he pretty much hit it on the head. I mean, I know the process, I played at the pinnacle of the sport. So to kind of re-position to where it's like, "I'm in rookie ball again," that was tough. That was a tough pill to swallow, because I know where I need to be. Tony talked about the situation where I was talking about assignments, defensive positions, things like that, like that's what I do, and to have to do it another way, it's tough. They respect your years of service in the big leagues, so let's not get that twisted by any means. But it's their way, it's the way that they want you positioned, not the way that Tony Barnette wants me to play. It's the way that my manager wants me to play. So that was an adjustment, because I can look at a swing, and I take notes. By the third week of exhibition, I knew pretty much everything. Pretty much everybody had a plan, where to challenge them, and things like that. After seeing the way balls are played in Jingu, I knew exactly what I was gonna do, I was gonna challenge guys, I wanted guys to hit it over my head, so my head was gone. Things that I mentioned that Tony loved, but just having that taken away from you, after you worked so hard 25 plus years… I've been working my tail off for so long to reach the pinnacle of the sport, I don't care if you get a cup of coffee one day, three years, 15 years, it doesn't matter, you play at the pinnacle of the sport where everybody is trying to go, that's the premier league, and to kind of have that taken away from me a little bit was an adjustment. I had to learn how to communicate with what they wanted me to do, a little bit of my sauce mixed together, to come up with the right formula, that was tough… but we did it, and I learned how to do it. It took a year plus, but that's the hardest thing, doing it their way. I can see some things where it's like, "Okay, I know this guy, this is what I want to do," and I was completely wrong. And then there was the other way around, where we're like, "Okay, why are we playing this guy here? Why are we doing this? Why are we doing that? I know what he's gonna do, but I got to play in this position." It was a back-and-forth thing, and not bad in any means, it was just more baseball dialogue, "Okay, we don't want you to play here." "This is what I've been doing the last five years, I understand that you've been seeing him for the last three, four weeks." "But this is the data, this is what we're going with." I didn't have that body of work, I didn't know these guys like that. But it was just the dialogue going back and forth, and in the language barrier, it was just tough. But, in the end, we got it all handled, and it was good communication out of that, but it is an adjustment, man, it's an adjustment.
Aaron:
To kind of expand on what Lastings was saying, in the United States, in MLB, you are an individual playing a team sport, and therefore, you advance, because you individually are doing things. Even in the minor leagues and the big leagues, you still [have] your own practice, your pregame work, a lot of that is all still individual. So when we go to the States, we know what process we went through to be successful, what process we went to when we got to the field, our soft toss, or what we ate that day, there's different things that made us successful. So a lot of us– well, I think all of us– bring that to Japan, and we find out very quickly that the Japanese culture isn't individual, it's actually collective, and therefore, as Lastings was touching on, there's so many things; it's not an individual, you are now back in rookie ball, you have to follow a schedule, you have to be there 10 minutes early, stretch with teams. We would practice so much every single day, and everybody when they got there, we would always think that they were over practicing, but that is the way that Japanese baseball is played, and that's why they're successful. I think for me, I came over there very independent and individual and saying, "I'm going to get my work done." But they force you to work as a collective, and be involved in everything the team is doing, and therefore, a lot of us will buck against that for a while, and it takes while. Lastings says it took a year. A lot of us will buck against the way the Japanese teams do certain things, but ultimately, you realize that the Japanese players are so good, so polished, so professional for a reason. It's because they've been doing that collectively since they were in high school, and I really think if I played in Japan and went back to the States, I'd be a better player. But it took a while for me to get used to having to go through this massive list of things that they want us to do on a daily basis, and these things that we didn't deem important that we didn't think it was going to improve us at all, and yet, you have to swallow your pride. You have to do all these individual things, because that's what everybody else is doing, and the quicker you can get over that– get over yourself– the better you are. I really do think that I've benefited from actually getting over that, being a part of that team, and in the way that the Japanese did things, I know that I improved.
Jim:
Just a comment then; I asked Akinori Iwamura once at the US Japan All Star games, where they have like a half hour practice, I said, "Is this better for you?" He says, "Oh yeah, this is so much better, this is swell." I said, "would you do this in Japan? Just say, 'no I don't need it?'" He said, "Are you kidding me?"
Aaron:
It wouldn't matter. It wouldn't matter if you were him, or a rookie, everybody; and there's such a respect for some of the veteran Japanese players. They go and they do the same things as the rookies do, and you don't see in the States, it's quite different. So it's a respectful culture, and it's a oneness, and that was one part that took me a while to get used to but I enjoyed it.
Tony:
Yeah, watch a top NPB team stretch versus the Los Angeles Dodgers stretch. I'm just saying, if you want to see the difference between Major League Baseball and NPB, look no further than the stretch. Everyone is "ichi-ni-san" (one-two-three). With the MLB teams, you got some guys stretching over by the poles. three guys back down the turtle talking to somebody else, some guys are jogging, most of the guys are just laying around. They're like, "we'll get to it." But in reality, man, if you're not prepared to get dressed on a dirt floor, you know at a local stadium in mid July.
Aaron:
There's no smoking bus in the major leagues either.
Jim:
I always wondered! "Why do you guys need two buses?" For the batting practice pitchers, right?
Aaron:
Well in one, they had a barbecue going out the back.
Tony:
I think one of those moments for me was– Yakult always did a good job because guys would smoke, and they always had a smoke room or something outside, or something off the main room– I went to the All-Star game in 2012, and I walked into the Kyocera Dome, and there [were] a lot of older players on that team, a lot of guys approaching 40, maybe in their 40s, and I tell you what: I won't say names, but there was just ashtrays seven feet in front of people's lockers. There [were] a good seven or eight of them, but I was like, "I'm gonna have to change somewhere else today. This ain't gonna work for me."
Jim:
Yeah, that freaks me out still. I go to Seibu Dome, and I see that there's a smoking room near the visitors' clubhouse; on the step there, there's about eight packs of cigarettes with lighters stacked on top of them, for the players who are out on the field practicing.
Tony:
I'm surprised the lighters aren't personalized.
Shane:
Thanks, Jim. Good question. Thanks for joining us. All right, Yumi, you're up next.
Yumi:
Hi. I was born and raised in Japan, and I watched Yakult, but it was mostly high school baseball, so I didn't really watch professional baseball until recently, I would say. The majority of my games were MLB, but I watch a lot of YouTube, and [I'm] learning about Japanese baseball these days. I have two questions: One: your home ground was Jingu Stadium, but was there any stadium you preferred or you liked? The second question is your contract. So you were with Yakult, was there any deal that you could have plenty of [Yakult goods] you could take home? I am dying to know about it, because some of the Japanese players said, "if you go to Yakult, you can drink in the back, you can drink plenty." And the Nippon-Ham Fighters, I think some people [said] they can eat sausage or whatever. I'm dying to know about the behind-the-scenes of the stadium, so that's my question.
Tony:
I know Lastings and I always joked about the little pink drink.
Lastings:
Oh the milk! Oh my god.
Tony:
Yeah, the Yakult probiotic drink: that thing will cure a broken arm. There was always a decent amount of Yakult products in the clubhouse. If Yakult made it, they kinda had it around. They had plenty of Yakult stuff around, I know they gave out some goods every once in a while, they'd have a bunch of these facial care stuff that they had. I know my wife really liked some of the beauty care products that they put out. Outside of Jingu, some of my favorite stadiums I really enjoyed… I mean, each stadium is so unique in Japan, which makes it so much fun, each stadium has their own memories. If I had to rank them, like number one to 12, number 12 would be Seibu Dome; I have about an 8 billion ERA in that place. I like Jingu, but I liked Hiroshima. Hiroshima was a fun place to play, like the outdoor atmosphere of that. The old Hanshin grounds– what is it called?
Yumi:
Koshien!
Tony:
Koshien… or, not the old Hanshin, but the old Orix, where Ichiro played, what's the name of that stadium? In Kobe, right?
Shane:
Yeah, Hotto Motto.
Tony:
Yeah, Hotto Motto. I never actually pitched in that stadium– I remember watching us face [Randy] Messenger there one time– but that's a really cool [stadium.] I really enjoyed just the open air stadiums in Japan, I really liked the atmosphere, even like the local stadiums, and when you go into a local place, [in] the farm country out in the mountains, you're surrounded by all the trees out in the middle of nowhere, people are all in the burbs. Every stadium we played in in Japan brings its own unique atmosphere, but if I had to pick a place to pitch outside of Jingu, I would probably say Koshien or Hiroshima. Koshien simply because the atmosphere there, when they're playing pretty decent, that place gets really loud, and that place can tick the velocity up a little… that's a fun place to quiet as an opposing closer.
Aaron:
SoftBank had a really cool stadium because it was connected to the hotel and little mall there, and it's just beautiful on the top floors, with a beautiful view of the ocean, and you just go underneath to the stadium, and it was really cool to see the countryside of Japan, and see just a little bit part of it. So I enjoyed going to SoftBank.
Lastings:
My favorite away ballpark, I might have to go with Tokyo Dome, but a simple fact: not because of how many people there, or the fan atmosphere. It's because Mike Tyson was my guy, and he lost in there, and every time I went in there– I promise you– every time I went in there, I felt like I needed to do something to take that loss of Buster Douglas away, and honestly, every time I went in there, there was this aura about the place. Believe it or not, I always said I wanted to play there, because I knew that the Giants played there, but I didn't know that it was like the Japanese Giants, so it was like, "The Giants! I'm gonna play there, and I'm gonna avenge that loss." That's how I was thinking as a kid, so I actually made that dream come true. Tokyo Dome is definitely the number one for me, just because [with] Mike Tyson, this history there and things like that.
Aaron:
And you feel like Godzilla when you're hitting in there!
Tony:
Tokyo Dome has different levels of noise. There's the noise when the ball hits the bat– whether it's a pop up to the catcher or if it's a deep fly ball to center– there's that initial noise off the bat, with the crowd. And then, as the ball travels further to the outfield, it ranges up a little bit, and then once the ball lands in the stands, it just erupts. Then, as you're crossing home plate, it gets louder, because when they hit a home run off you on the mound, you just have to stand out there. Everyone's letting you know that they just hit a big home run, and then, when they touch home plate, they're gonna let you know even louder, that they finished hitting that home run, and then they're gonna continue singing about it for a while. Then the next guy comes up, and you're like, "Man, I've got to quiet this noise right now." Place has different levels of noise.
Yumi:
Lastings, did you drink a lot of the Yakult drinks?
Lastings:
Oh, yeah. When my shoulder was hurting, I drank a couple and I was good to go. Tony explained it well, you drink that drink, I'm telling you, that thing is on another level. It's all in your head.
Tony:
We built up a lore about the Yakult drink, and what it can do for you.
Yumi:
I live in New York City, and I go to Japanese grocery stores, and I buy Yakult drinks.
Tony:
They are good for you! But we being ballplayers, just being in the clubhouse all the time, we're just surrounded by stuff. You make silly jokes out of some of the silliest little things, and it's amazing what carries through the years, like these little pink drinks just carry and carry. They still do, like I see those in a store and I just start laughing, just thinking about these jokes that you have with your teammates along the way, and something as small as a little yogurt drink can make you die laughing in a grocery store and Litchfield Park, Arizona.
Ted:
Thanks for being here, I really appreciate it. Lastings, I'm a Nats fan, I remember watching you play for the Nats and Manny Acta, I think, was your manager. Here is my question, and it's basically to Lastings– and not Tony, because Tony was a pitcher– and Aaron. When you were in the major leagues– I guess the language in Japan would be hard– when you're playing outfield, when they're changing pitchers, what do you all talk [about]? I always want to ask players this. Is it what you're having for dinner? And my other question is, what do you do when you're in a bad slump?
Lastings:
Well, I was fortunate enough to have Balentien on the other side [in right field]. The foreigner was guys like [centerfielders] [Tsuyoshi] Ueda and Yuhei [Takai], and guys like that, they were the foreigners, while me and Wladimir would just be talking, and we'd catch ourselves and take a look at the Japanese, or whoever's in center field, what have you. But mainly, it's just a flow of the game. Sometimes if Tony don't got it, I'm like, "Dang, man, Tony should have two more of the pink drinks, man. Should have drank two more." Or, it happened a couple times where it's like, "I know Tony's hot with me because I didn't break like I'm supposed to. I don't want to go into the clubhouse totally wrong. If he says something– he definitely has the right to say something– but if he does say something, I gotta take full accountability, and that's just gonna it." Because for me, like, when Tony comes in, it's just one inning; he's not throwing two, he's not a starter, sometimes he may throw only twice in a week. Those are the kind of things that we talk about, a little bit of strategy, and whether we should have got a guy in from third with less than two outs, Tony's up for his big incentive for his save… Honestly, those are the things that we talked about, whether they're good or bad, we're always trying to strategize, and we know exactly what incentives are, and pitchers and things like that, with even the Japanese guys. Like, "we can't let up a run here," like, "we've got to make something happen," and things like that. So, I think a lot of the times, 90% of the times, that's what we're talking about; we're talking about strategy, we're talking about positioning and where we should be, and then we forget that we have a Japanese centerfielder, and we're like "Oh, shoot!" And we go out in broken Japanese, where we think we should be lining up, and then the other 10% of the times, it's, "Man, we're getting killed. I can't wait for ramen," what I'm going to eat and things like that, or "I'm terrible, I'm in a slump" and I go to eat McDonald's in full uniform.
Tony:
I was gonna say, Lastings, tell them what you do in a slump.
Lastings:
Yup, full uniform to the nearest McDonald's, full uniform; name on the back and everything. Clay on you, everything: going straight there.
Tony:
And the bag didn't even make it to the hotel room, it went with him!
Lastings:
Oh bag? No, I eat there too! Being in Japan, you can't go full uni in LA, or in DC or New York- definitely can't go there like that.
Tony:
No, but me and [Orlando] Roman are standing there like, "Where is he going?" And sure enough, we just watched him walk all the way to McDonald's in full uni, order whatever he ordered, sit down in front of the big window and just start eating that sadness, and man, he came right out of that slump.
Aaron:
Too bad you didn't have that on YouTube, Tony, that'd be a million hits.
Tony:
That one lives forever in my mind. I've told that story, and I love it every time. What were you, like, 0-for-24, right?
Lastings:
Oh my gosh, I was seriously like, 2-for-28, 2-for-29. It was bad.
Tony:
Yeah, the newspapers were starting to type.
Lastings:
Yeah, I was about to get sent down! He was like, "Hey bro, you kind of might want to tighten up, because they don't play around here." I'm like, "Man I ain't getting sent to no minor leagues, you're tripping." And he was like, "Nah, but like for real though." I'm like, "Oh, snap. I need to tighten up. Oh, no."
Tony:
Man, you do what you gotta do, and Lastings did it, he got out of that slump. Thank that double quarter pounder.
Lastings:
Oh, yeah. Crushing. Crushing.
Jim:
Quick one, just this is for Aaron and Lastings, because you talked about doing it the team way, and one of the things they do in Japan that drives me nuts– which is hard to say because it means I'm probably quite insane by now– is bringing in the outfield with two outs, and a runner on second, so that every fly ball to the warning track is a triple.
Aaron:
Dude, I'm getting anxiety just thinking about your question, because we used to do that all the time, and it was automatic. As if we'd learned it when we were kids, they would bring them in, and I could see anytime from the pitcher on the mound, they would just be going crazy. I can't count how many times they would bring us in, and it was against everything I believed in, and everything I wanted to do. They would bring us in, and then they would hit a routine flyball, and we couldn't get to it. It's just one of those things that you just have to accept, that's how they want it done. For a while there, you kind of buck against it, like, "This is stupid, what are we doing?" It would work out once in a while, but in my mind, that was one thing that I could never wrap my head around and never really accepted that. I never liked it, but yet, you know what? We were part of that team, we had to move in. Otherwise, we got into trouble. So we just did it.
Lastings:
I found a way to beat the system. That's against all the rules, all the base guys, moving in that shallow. But you know, ever since Albert Pujols took second on me– I'll never forget this day, I was just coming up, it was a routine single, and I just kind of just broke down, he read my body language and took two on me. Albert Pujols was the smartest baserunner in MLB forever, not a lot of speed, but like the smartest base runner ever. So from that day on, I charged the ball really, really good, just because I didn't want that ever to happen to me ever again. If they went two, it was a sure-double, but not something that's in front of me and me taking my time. So I found out how to beat that system, to make me more comfortable. So I was about a good 25 feet deeper than where I was supposed to be, because I would [move] in early, and then I would back up, take a couple of steps, couple of steps, couple steps. It wasn't about the system, I just was uncomfortable. I just felt like I would be on like "Not Top 10" with any kind of routine flyball hit to me, and I would look like an idiot, so I just wanted to take that way to get some comfort. So like you know, I'll show in, back up, and I already charged the ball good. So show in early, what they want [me] to do, then once he'd start to make his way to engage on the mound, I take about a good five steps back, that's about a good 10 feet, then he becomes set, I take another three-four back, I'm in a comfort zone– still shallow– but I'm in a comfort zone where I know I can charge the ball, nobody's gonna advance, nobody's gonna do anything crazy. So I found out how to tweak the system a little bit… not to beat the system, but just so that I felt comfortable. But that was weird.
Aaron:
It depends on who your coaches are, to who your managers are. We had Tetsuya Iida [as our outfield] coach, and he loved to jump up and scream and shout, and make sure everyone watched him, and watched him move players all around, and if you didn't listen to him, he would get you in trouble with the manager. Sometimes you're just out there, kind of at the direction of some of the coaches that usually don't have much of a part in the game, and they just want to get their 10 minutes. So they move you around, and it depends. I had Atsuya Furuta as my manager my first year, no ego. Right? We've also all had managers that like to let you know who's the boss, and that just depends on who you got.
Jim:
Wow, Lastings, that's got to be about one of the best explanations I've ever heard about Japanese baseball, about doing it your way, but acknowledging that everybody has to do it their way at the same time.
Lastings:
Yeah, because you know, if you make a mistake, at the end of the day, you can always say I'm sorry. You have to take accountability, first and foremost, don't make an excuse. If I'm in a situation where I messed up, or something like that, I would take accountability and be like, "it was just a comfort level, I just didn't feel like I could make the play, honestly, I just feel like I couldn't." I just felt like if I was that close, you might as well not even have a left-fielder, like that's how I felt; it was so uncomfortable. You have to take accountability, and like I said, it's a dialogue. It's the dialogue of all of us trying to be great, you know, all of us trying to be great, so that's the way you have to adjust, you have to find a way because at the end of the day, when you make that diving play, or when they call on you to drive that run in, the manager's not up there hitting, our hitting coach is not hitting, my dad is not hitting. Nobody can help you, it's just yourself. When it's time to make those quick tweaks and adjustments on the fly, right then and there, with 50,000 people screaming at you, on the verge of elimination… there's no textbook page to turn to. You have to make adjustments and go with it, whether it's right or wrong. But we all survive and love each other, we also have some tough times, and it is just what it is.
Joe:
Hey, guys. Thanks for being here, this has been a real treat. I've got two questions for everyone, but I want to start with Lastings, because I'm from Philadelphia, and you played with the Mets and the Nats, you were quite the nemesis. I don't know your numbers on us, but I know you hit us pretty good and stole some hits from us. It was always a treat to watch you play. So my questions. One: you guys all kind of touched on the adjustments on the field and in the clubhouse, but I'm curious to know, what were some of the biggest challenges for you guys culturally off the field, in your personal lives in Japan, and also, to what degree did you interact with other import players, other guys from US; was there a network there, was there a support system? Were you friends with those guys? Or were you kind of frowned upon to interact with them?
Lastings:
I'll let you guys go because I've got the least amount of time, I'm the rookie in the group.
Aaron:
Well, I think for me, as far as off the field, you're just being dumped in their language. When we grew up in the U.S, we at least had some grasp of Spanish, so if we go to Mexico, if we go to another place, we at least can get by. When you land in Japan, the language is so difficult, and there isn't somebody there with you all the time, and normally, at spring training when you do land, you're by yourself, your family's not there for a month, and especially [for] your first experience, it can be really overwhelming. Fortunately, the Japanese people are so amazing, welcoming. Some places have decent English, and once you land there, it's not as difficult, but culturally, people do things very formal. People do things just a little bit [of a] different way, and if you're set in your ways, it can be tough. Just imagine just landing somewhere completely foreign, they don't have the same restaurants, don't have the same ease of transportation, things like that. So it takes quite a while to get used to, and because foreigners look so different, you do feel like you're sticking out big time. It takes a while to get used to, but that kind of goes away, just because the people in Japan are so friendly and so welcoming, and it's such a modern, cool country. You do have the other foreigners, you guys have something so much in common. You're all in the same kind of situation and scenario, that you kind of bond really well with those guys, and look out for each other. The agents prepare players to go over there, the teams are prepared to have foreigners there, so they try to set up systems to make it a little bit easier, but there is a network. Even with me being a Yakult and other guys with the Giants or other visiting teams, we'll get together in areas of Tokyo like Roppongi, where there's sports bars and things, and we'll get together and compare notes, experiences and lean on people. That camaraderie definitely helps.
Tony:
Aaron hit it right there. Within the team, I think there was only there was one year or two [where] there wasn't many for English speakers on the team, we had [Chang-Yong] Lim, there was Balentien, but the network of foreign guys to help you out when you first show up, I think, is pretty important. When I showed up, I had Aaron, and we had Jamie D'Antona, and they kind of dragged me along, showing me the ropes and giving me good advice along the way, as a young man trying to make it. They'd already been there, telling you what to look for, how to approach situations away from the field, because there are certain things that you're going to come across that you're just not prepared for, [like] teaching you how to use the subway, all these things were pretty important right away, just little basic details: how to walk and chew gum at the same time when you're trying to make it there. Having foreigners that were there before that can help you out. My wife and I, we tried our best to invite guys when they first came over into the apartment, get to know them, get them feeling comfortable, whether it's having meals at the end of the games [or whatever,] and showing up until their family goes up, and just making sure guys don't feel alone, because it can be a lonely place. So having to have a good system before, and guys to show you the ropes, is definitely an important thing to have.
Lastings:
I was spoiled. I had all those guys. I had Tony, Wladimir, Roman– the list goes on– [Mitch] Dening, when he came from Australia. I was spoiled, I had a support system, I had guys who had success to be able to relate to, so it was pretty comforting to be around for me.
Tony:
Especially having a guy like Roman around, Roman was the rubber band of everything, Roman could bounce with anything. You could ask him to start, he'd start; you'd ask him to relieve, he'd relieve; ask him to go to the store and speak three different languages, he'd figure it out. Roman was probably one of the most versatile dudes I ever ran across when it comes to just making it happen. Whatever it is that he's trying to make happen, anything. I bet you can still get six strong out of him right now. So Lastings is right, like there was a stretch there where there was a lot of good dudes running through that Yakult clubhouse. It was hard to find anyone that didn't have something to offer. Everyone had something to offer during that kind of time that we were all there, there really wasn't any deadweight, it just seemed like everyone had something to offer. Everyone was there to win, even– like Lastings touched on– dude like Mitch Dening, [who] came out of Independent Ball to Japan, and just made the most of the good situation because he had a great head on his shoulders, and he just cared and he tried, he gave it his all, had a few big hits down that stretch.
Aaron:
Also, Jim would be able to tell– he's been there a long, long time– Yakult, especially the guys that I know have been there before me during when I was there and after– everything I've heard of Lastings, I know Tony real well– all the guys that Yakult tends to get in there are all good people, and that helps immensely. Some other teams don't care, they just draft on a statistic, and they end up with kind of a toxic situation. But Yakult, from my experience, always ends up signing foreigners that want to be there, that are good people, that are team-guys, and they're always good people. Even [guys] like Tony and I and Adam Riggs and some other guys, [we] still converse with those guys years after we stopped playing because they're just good people.
Shane:
Thanks for that question, Joe. Tony, you mentioned early on when you're looking for guys that fit in with Yakult, it's kind of a special place. Obviously, the ballpark's unique, but what is it about the Swallows that makes them a unique organization, and then, from each of you, if you have any impression of Jingu Stadium that you want to share, I'd like to hear that too.
Tony:
Well, for me personally, every single one of us here, we only played for Yakult in Japan, so I don't have a view of what it's like to be in the Giants' clubhouse, or the Hanshin Tigers' clubhouse, or the Hiroshima clubhouse, I don't have that feel. All I know is what Yakult offered me, what kind of support they showed me with the people that they employed. I've always spoken so highly of Tomohoto Ito, he's my everything as far as pitching coaches go. We spoke two different languages, but through an amazing ability to read each other's minds and playing charades and just like breaking down videos… that one coach, I mean, he's springboarded skill sets that I hadn't tapped into yet, and it wasn't much. It didn't take him writing a novel for me, literally [just] a guy just speaking broken English and me speaking broken Japanese, breaking down some videos, and through a translator, talking a little bit more in detail about things, but just the people that they employ care, I believe. Aaron touched on it, they bring in people from the outside, they bring in gaijin that are generally good people, they try their best to do so, I think they also do that with the coaches and the staff that they bring on as well. When you fill an organization with people that care, and people that try, the result might not always be a win on the field, but behind closed doors, when you reach back the curtain, there's an entire organization and entire clubhouse and group of guys that genuinely care about each other getting through the day healthy, and what can we do together to hopefully chase that win tomorrow. So I think it touches just on Yakult, the people that they bring within the organization, how much they care about the people around them as well. That's the feeling I got from it when I was there. My last year there, we won a championship– we didn't win the whole thing, the whole Japan Series– but we won the Central League, and that was a big deal for us, and that was a special moment for that team and that organization; and myself personally.
Shane:
Awesome. Lastings, what can you share about Jingu? I personally love Jingu Stadium, but as a player, what's your takeaway?
Lastings:
[Artificial] turf outside. That's a new one. Turf outside, in the typhoon season, that's different. So we talked about learning new things, being able to adjust on the fly. I had to learn how to field a line drive that's hit 115 miles-an-hour off of damp turf, so when I showed up there, I was like "Uhhh… turf outside? Well okay! All right, it's gonna be fun when it rains." So that, along with the weird field. It's a weird field, not in a bad way, just because the corners are short, the gaps are somewhat okay, the wind blows out, the wind blows in, and it's like you're like 39 different hitters throughout the year in Jingu. You're a big donkey one week, and then it's like you're a slap god the next week, because even though the field is not the biggest, it plays like it's ginormous. Then you've got some days where there's no wind, no nothing, it's just dead. Then you've got your days where it's 199 degrees, and you've already lost 20 pounds. The experience at Jingu, It's a lot. It's a lot of different emotions, a lot of different experiences, but with that said, I feel the different dimensions Jingu brings, as far as getting a word on it. And then outdoors, that was a challenge man, but like I said, it was a great place, great experiences, and even the last thing that we were talking about, just with the relationships, and how good the foreigner guys are that come through that organization, it was an easy transition. To this day, I'm able to make a living from my experiences, just because of the grind from the Yakult Swallows, the grind in Jingu, the experiences you have [in all stadiums, like] warming up in in the parking lot in Yokohama, it's crazy surreal, but to stay on the subject, those experiences at Jingu, with the turf and in the rain, and the different dimensions that Jingu plays; plays like little league one day, and then the next day, wind blowing dead in, and you're still trying to go deep, and the ball's just not going anywhere. So crazy experiences. I have a ton more.
Aaron:
He was talking about that 199 on the field, those Golden Week day games.
Lastings:
Oh yeah man, jeez. I felt like I hit balls 220 feet, and that ball ends up in the fourth row. And then it's days where I get it, and I'm like "Yeah! I did that yesterday." Nope. Halfway into the outfield. Great experiences, man, great experiences.
Aaron:
I think for me… I think as a foreigner, your experience– we're all talking positive about our experience with Yakult, but I do think there's a correlation between which team and which place you played. Without mentioning other names, there are some cities and some places and some teams, organizations and coaches, that [when] I talked to foreigners, they did not have the same experience that we're all talking about, so I think there's a few different things. Yakult is a great organization to play for. They're very player friendly, they are very kind and they're great to play for as a foreigner. So that's a good experience. You know, Michael Akamura, who's my boss now, he's the same guy that came to visit me in Albuquerque in 2002, so he's been with the organization a long time, great person, he's now our boss, and there's some longevity there, he's just a great person. Our interpreter when we're there, Koji Kondo, also becomes like your best friend. So just people that I've met, that experience for me with Yakult, comes with the people that were there, like Tony said, but also with the stadium. Jingu was so unique with it being outdoor, the location right in the heart of Tokyo… [the way the fans are,] they're energetic, they're positive, always, no matter if we had ups and downs, no matter how we were performing, as long as we gave our best, those fans were always behind you, always positive, which is a refreshing thing, especially when you come from some negativity in some of the places you play in the States. So the fans are awesome. The umbrella dance– and even Lastings and Tony will tell you, and maybe some people don't know– but there's a tunnel underneath from the clubhouse, there's some neat features about it. The fact that you have to actually walk across the street [in] full uniform, dodging traffic to get to the batting cages and things like that, there's some interesting things that people don't know, playing Frogger with your bicycle across the street to go to BP. So there's some really cool things about Jingu that we can kind of have a beer about and laugh about. But those are things that if you ask some of the MLB guys, if you talk to them about some of those things, they think you're crazy, but it's all part of that cool experience. Between the fans, the city, and the stadium and the team, for me, I feel blessed that I get an opportunity to play there, because I also know that other players that I've talked with [in] organizations didn't have that same experience. So I just consider myself very lucky.
Shane:
Love it, love it. That's right up against the time, I think that's a good way to wrap it up. Lastings, I want to give you a chance real quick here at the end to talk a little bit about what you're doing now with your program. I was reading a little bit about how you're trying to make the game more accessible to the African American population, so can you share real quickly about what you're up to?
Lastings:
Yeah, 1st Round Training. We run an organization, travel ball organization out of Bradenton, Florida. We recently signed a 10-year deal with the Police Athletic League of Bradenton. My duty as a Black American ballplayer is to drum the interest back up in the inner cities for the game, not only for inner city kids, just the awareness of baseball period. I was given the opportunity to play this game; my family didn't have a lot of money, me working hard, my dad working me out, and the support from my mom allowed me to be able to get in front of people who got real big checkbooks, so I was able to put my skills on display and be put in a good situation, going to private school, going to all these different places that wouldn't have happened without somebody believing in me. So I give that back to my community of Bradenton, Florida, and it's been a fun ride, man. We currently have 10 teams, we have six high school teams. We're starting kids that would never, ever have a chance to be seen, and it's a great thing. 1stroundtraining.com, Logan Wells, we started this thing in Independent Ball, so having a life after baseball, that's what this is all about, have a life after baseball and being able to give back to these kids, give them the big league information. That's so key for these kids, and not everybody is able to play at the pinnacle of the sport, and obviously all three of us on here have, but to be able to relate to a big leaguer is special, because within the game, you have cheat codes. If you talk to a guy who played college and things like that– there's no knock to it by any means– but they don't have the A to Z factor. They have to lean on somebody to figure it out. And I still have to lean on other guys, because this is levels within levels, and I'm very respectful of that. But sometimes I have to call guys and get information, even though I've been there. But it's that big-league factor that we give these kids, and help them through and give them those little cheat codes, that little extra boost that nobody really knows about. How to work, how it is to be in the big leagues. That's the Google question of the year, "What is it like to be in the big leagues?" Nobody knows if you haven't been there. You can guess, you can ask, you can do all these things, but if you don't have somebody on the side of you, to tell you what it's like, what's the work ethic like, what does it take, the heart, the grit, you're never going to know that. You're never going to know that answer. So at 1st Round Training, that's what we provide. We have three collegiate guys, including my brother-in-law who played D-II at Claflin, especially for those black Americans who are trying to go the HBCU route, he's a book on how to do it. But that's what we're offering. We're offering this for all, we have Vietnamese guys, Mexican and Venezuelan, white Americans, we're so diverse, and we're able to offer these kids what they're googling for. We're able to offer them that, and that's hard to come by. I'm grateful, I'm thankful my family supports me, and we're going to make it as big as possible. I have dreams of being in the biggest travel ball organization in Florida, and I know I will get there because I beat 99% of other people. So I know I'm going to get there one day. I don't know when, [but] I'm going to keep working my tail off, and outwork them, to be the best. I want to remain relevant in the game, and I also don't want to lose the product you want to deliver before I walk away from the game. So that's my dream, and what I'm doing at 1st Round Training, along with Logan Wells. You don't have to be local in Bradenton, Florida. You can be all over; I help kids in Mississippi, help kids and Miami, and things like that. Honestly, it's like a worldwide thing with me. I don't care if we need a translator, we can get one on the phone, whatever we [need] to get the job done, we get the job done by any means necessary. To get these kids to school, to make these players the best. So that's what we do at 1st Round Training. I appreciate you giving me the opportunity to explain what I do and what we offer and everything like that. 1stroundtraining.com, like I said, we've got information, tips, tricks, anything. You can get a hold of me, I'm easy to find, that's just what it is and I appreciate being here, especially with my comrades I didn't get over with Aaron, but it is nice to be able to chop it up with these guys. Like I said, Tony, I've got nothing but respect for you man, from the first day I saw you, I said in live BP, that's who where you were going to be. I didn't know, but I was right. I was right.
Tony:
You called it, man. The man's got an eye for talent.
Lastings:
So you know, hopefully I can help you guys along the way, whether with one guy or where the guy doesn't have it, I'm always an open book. We will talk as we do every year, when the Cowboys get ready to beat up on the Seahawks, you know how it is. It's great being here with you guys, it's great sharing the stage with you, and you know I'm always thankful for what you guys [have] given me as a player of the NPB, and also being able to help you guys reach your dreams and things like that. So I'm forever grateful, humble, and all that above. From the Milledge family.
Tony:
And you're a girl dad now!
Lastings:
I know. She's about to slap me here in a second if I don't get off this phone. My two-month-old, ready to throw hands already.
Shane:
That's awesome. Thanks, guys. Lastings, we're rooting for you at 1st Round, thanks for sharing about that. Aaron, and Tony, it was awesome meeting all of you, and I'm really glad we all got on together and made this happen. I really appreciate you spending the time, and sharing candidly about your experience, it's a great insider look. We all love Japanese baseball on this call, and it's just really cool to hear from players who really went over there and embraced it. So thank you.
Tony:
My pleasure. I know we ran long. But if anybody has extra questions, shoot them to Shane, he can point them on, however that wants to go on. Guys like us, we're always open to share our stories. I know that every Japanese experience is unique within itself, [I] haven't ran into a foreigner that's had the same exact experience in the same exact way. So if anybody has questions, feel free to shoot them over to Shane, and we'll answer it the best we can.
Shane:
I appreciate that offer. And if any of you guys need any help with anything or help promoting anything, just let me know, and we'd be happy to help and repay you guys; you've spent enough time with us tonight. So I'll give you guys the green light to sign off. Thanks again, enjoy the rest of your weekend, and Go Swallows!