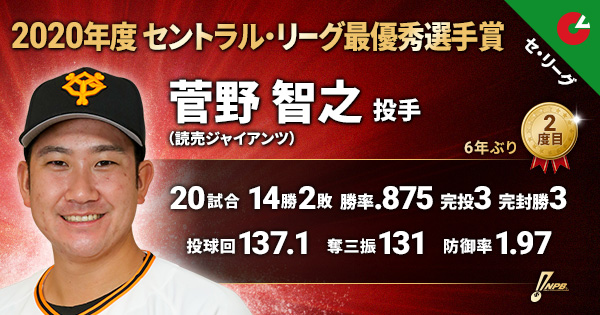 Awards have all been handed out and one of NPB's stars has reached a deal with an MLB team. I'd say that 2020 is ending well for most baseball fans.
On December 16 and 17, the NPB announced the winners of its major awards and all-league teams. Here are the results:
CL MVP: Tomoyuki Sugano (Pitcher, 31, Yomiuri Giants)
20 GP, 14 W, 2 L, 1.97 ERA, 3 CGSO, 131 K in 137.1 IP
---
PL MVP: Yuki Yanagita (Outfielder, 32, SoftBank Hawks)
119 GP, .342/.449/.623, 29 HR, 86 RBI, 90 R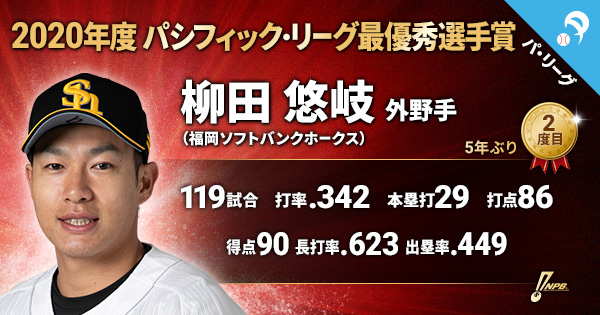 ---
CL Rookie of the Year: Masato Morishita (Pitcher, 23, Hiroshima Carp)
18 GP, 10 W, 3 L, 1.91 ERA, 2 CG, 1 SO, 124 K in 122.2 IP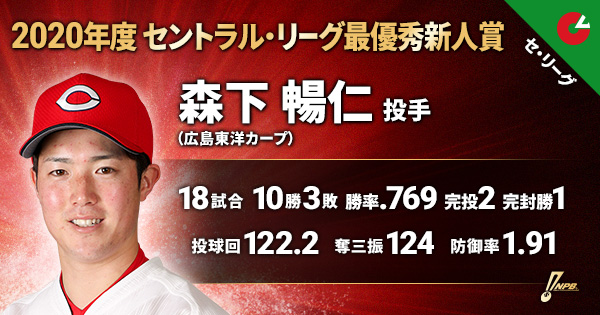 ---
PL Rookie of the Year: Kaima Taira (Pitcher, 21, Saitama Seibu Lions)
54 GP, 1 W, 1 SV, 33 HLD, 1.87 ERA, 62 K in 53 IP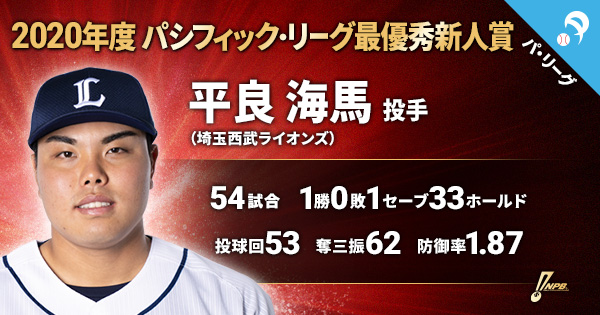 ---
CL Best Nine (* = Also won Golden Glove)
P: * Tomoyuki Sugano, Giants
C: Takumi Ohshiro, Giants
1B: Munetaka Murakami, Yakult Swallows
2B: * Ryosuke Kikuchi, Hiroshima Carp
3B: Kazuka Okamoto, Giants
SS: * Hayato Sakamoto, Giants
OF: Keita Sano, Yokohama DeNA Baystars
OF: Yoshihiro Maru, Giants
OF: * Seiya Suzuki, Carp
CL Golden Gloves
C: Ryutaro Umeno, Hanshin Tigers
1B: Dayan Viciedo, Chunichi Dragons
3B: Shuhei Takahashi, Dragons
OF: Yohei Ohshima, Dragons
OF: Norichika Aoki, Swallows
PL Best Nine (* = Also won Golden Glove)
P: * Kodai Senga, Hawks
C: * Takuya Kai, Hawks
1B: * Sho Nakata, Hokkaido Nippon-Ham Fighters
2B: Hideto Asamura, Tohoku Rakuten Golden Eagles
3B: * Daichi Suzuki, Eagles
SS: * Sosuke Genda, Lions
OF: * Yuki Yanagita, Hawks
OF: Masataka Yoshida, Buffaloes
OF: Kensuke Kondoh, Fighters
DH: Takumi Kuriyama, Lions
PL Golden Gloves
1B: Akira Nakamura (Hawks – tied with Nakata)
2B: Shuta Tonosaki (Lions)
OF: Taishi Ohta (Fighters)
OF: Haruki Nishikawa (Fighters)
---
Nippon-Ham Fighters ace Kohei Arihara is the first of the NPB players hoping to play in the majors in 2021 to reach a deal. Ken Rosenthal reported on December 27 that the Texas Rangers signed him to a two-year deal worth approximately $7 million.
That's all from JapanBall NPB Newsletters in 2020! Hope you are all staying safe and ringing in the new year strongly. See you again in the new year!
For more Japanese baseball news, check out JapanBall's Articles and Features section!