We come to you a little bit earlier than usual, what with Monday not being a day off for 4 teams this week. We celebrate Mountain Day here in Japan, but before we start looking at peaks and valleys, let's look at the top stories.
Hideaki Wakui (Eagles) was two outs from throwing a no-hitter on Wednesday night against the SoftBank Hawks, but a broken-bat single to shallow center prevented him from achieving the feat. He still won, and his Eagles took 4 of 6 from the Hawks to move into a tie for first place. Wakui also became the first pitcher in 37 years to throw one-hitters for two different organizations. He also accomplished the feat with the Saitama Seibu Lions in 2010. That one was also against the Hawks, and was also a no-hitter broken up in the ninth inning.
Speaking of the Hawks, their roster took two blows this week on the heels of Yuya Hasegawa's positive test for COVID-19 last week. Another farm player, Richard Sunagawa, also tested positive on Friday after initially testing negative last week. He was not believed to have been in close contact with any other players, and thus far no more players have followed up with symptoms. However, one young farm umpire also tested positive on Sunday.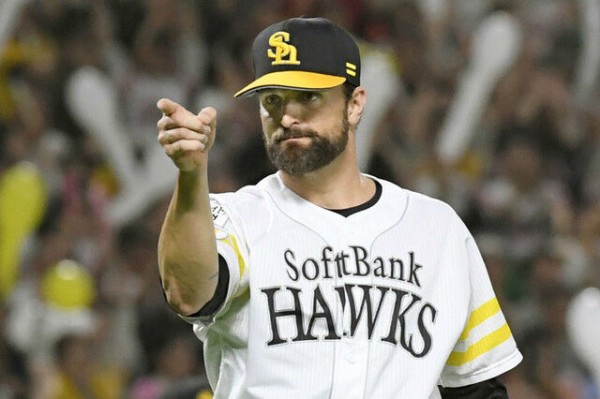 Also, longtime closer and 2017 PL + Japan Series MVP Dennis Sarfate has announced the end of his pitching career. The 39-year old native of New York underwent hip surgery in 2018, and endured other injuries as he attempted to rehabilitate. A re-aggravation of his injury prompted a return to the US for hip-replacement surgery, and he posted to his Facebook page on Friday implying that he was done with pitching. However, on Monday, he tweeted (in Japanese) that he "may" need to have surgery and that he has not decided if he is retiring or not.
In a move that caused some controversy on Thursday, Giants manager Tatsunori Hara used a position player to finish off pitching the eighth inning in a 11-0 blowout loss to the Tigers at Koshien Stadium. Their "mop-up" man, Hayato Horioka, got (ahem) cleaned up in his attempt to keep the game close. When he entered, the score was 4-0. In the time it took him to record one out, the Tigers put up seven insurance runs, so Hara called on infielder Daiki Masuda to throw. Masuda sandwiched a walk around two outs and has a perfect ERA on the year now. Masuda was the first position player to pitch in NPB since 2000. Some of the old boys in the Giants organization called the move disrespectful, while others (including former Giants pitcher Koji Uehara) thought nothing of it.
In the "I can't believe that just happened" category, the Yakult Swallows ended their own attempt to come back against the Yokohama DeNA BayStars on Saturday night by getting picked off at first base. Behind 5-2 at one point, the team clawed to within a run in the 8th inning, and then got the tying runner on first in their final frame. Unfortunately, even after BayStars closer Kazuki Mishima looked the runner back to first base twice (without throwing a pitch or a pick-off), his first actual pick-off attempt was successful, and the game ended after an unsuccessful challenge of the call.
Good Week: BayStars (5-1); Marines (4-1-1); Fighters (5-1)
Bad Week: Tigers (2-4); Swallows (2-4); Buffaloes (1-4-1); Lions (1-5)
For more baseball news from Japan, check out JapanBall's Articles and Features section!