Major League Baseball had its midseason classic last week, and now it's Nippon Professional Baseball's turn! On Tuesday, the rookies and young stars play in the "Fresh All-Star" game in Toyama Prefecture (livestream link). Then on Wednesday and Thursday, the big boys showdown for two games, first in Nagoya, then in Hiroshima. Here are the rosters…
---
Pacific League Fan Selections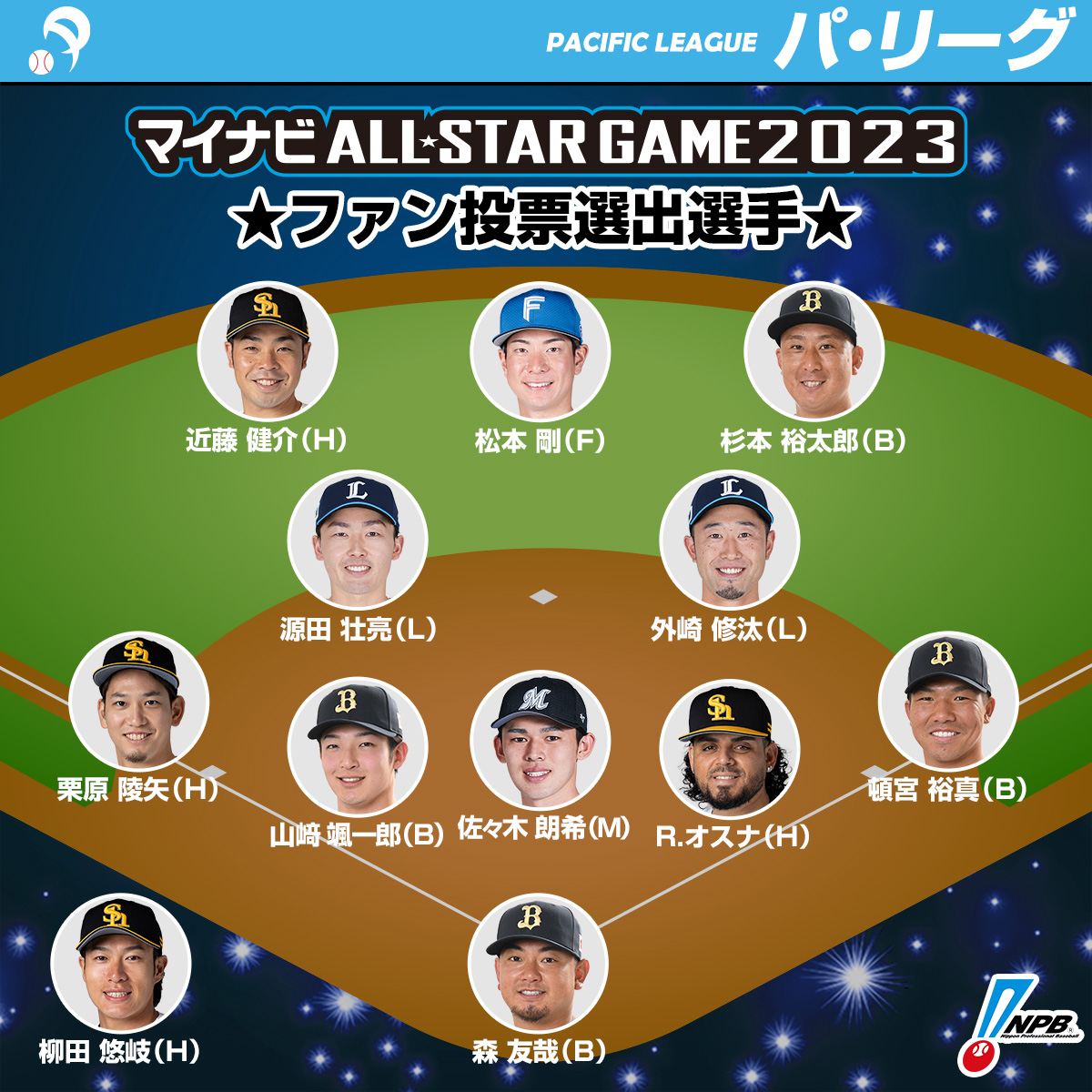 Starting Pitcher: Roki Sasaki, Chiba Lotte Marines
Mid-Reliever: Soichiro Yamasaki, Orix Buffaloes
Closer: Roberto Osuna, Fukuoka SoftBank Hawks
Catcher: Tomoya Mori*, Buffaloes
First Base: Yuma Tongu, Buffaloes
Second Base: Shuta Tonosaki, Saitama Seibu Lions
Third Base: Ryoya Kurihara, Hawks
Shortstop: Sosuke Genda, Lions
Outfielders: Kensuke Kondoh, Hawks; Go Matsumoto, Hokkaido Nippon-Ham Fighters; Yutaro Sugimoto, Buffaloes
Designated Hitter: Yuki Yanagita, Hawks
---
PL Manager/Peer Additions, Plus One (fan late choice)
Shunpeita Yamashita, RHP, Buffaloes
Sachiya Yamasaki, LHP, Buffaloes
Yoshinobu Yamamoto, RHP, Buffaloes (Plus One)
Yuki Tsumori, RHP, Hawks
Tsuyoshi Wada, LHP, Hawks
Kaima Taira, RHP, Lions
Masahiro Tanaka, RHP, Tohoku Rakuten Golden Eagles
Atsuki Taneichi, RHP, Marines
Luis Perdomo, RHP, Marines
Takayuki Katoh, LHP, Fighters
Naoyuki Uwasawa, RHP, Fighters
Seigi Tanaka, RHP, Fighters
Kenya Wakatsuki, C, Buffaloes
Ariel Martinez, C, Fighters
Akira Nakamura, 1B, Hawks
Kotaro Kurebayashi, SS, Buffaloes
Hiroto Kubukata, SS, Eagles
Hisanori Yasuda, 3B, Marines
Chusei Mannami, OF, Fighters
Takeya Nakamura, DH, Lions
---
Central League Fan Selections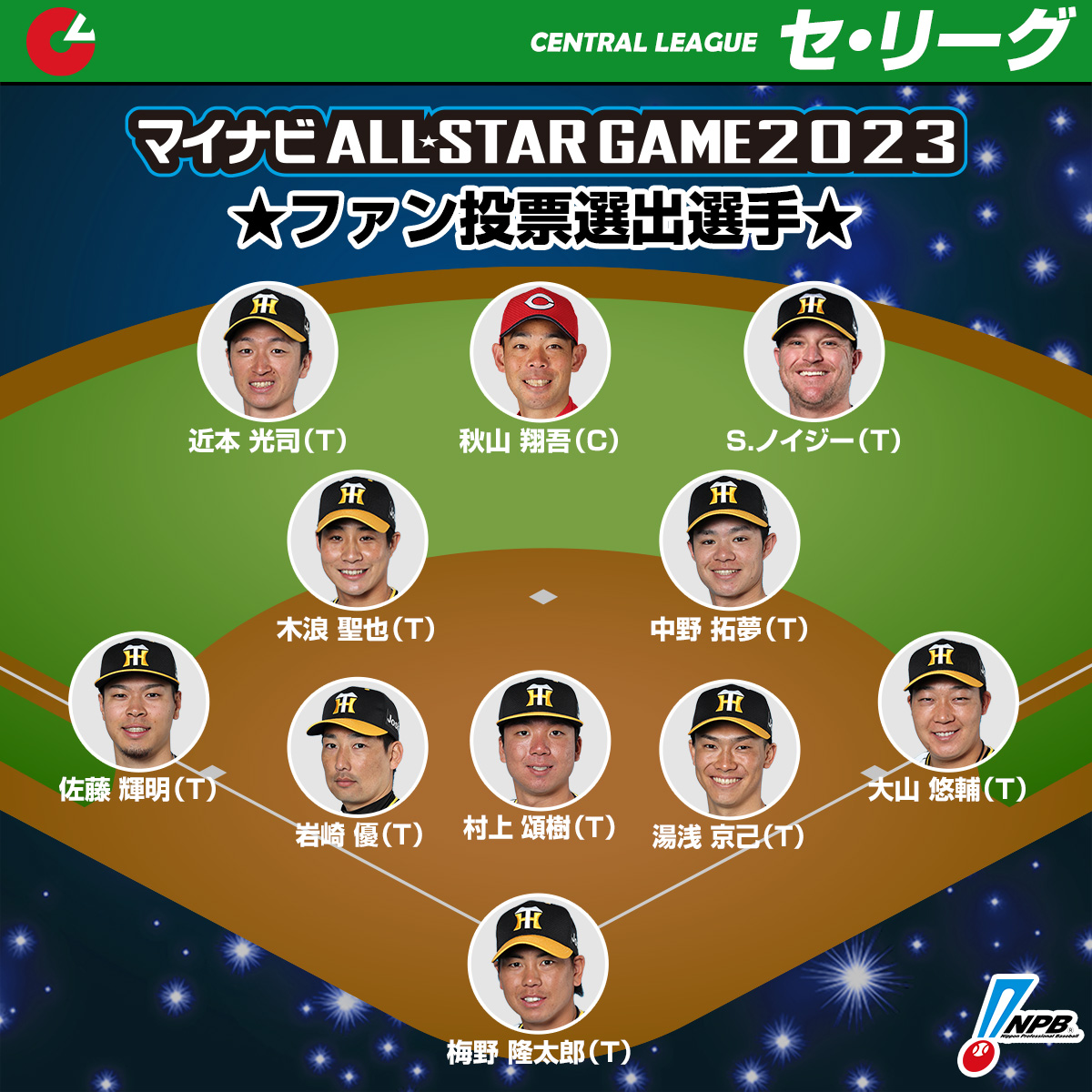 Starting Pitcher: Shoki Murakami, Hanshin Tigers
Mid-Reliever: Suguru Iwazaki, Tigers
Closer: Atsuki Yuasa*, Tigers
Catcher: Ryutaro Umeno, Tigers
First Base: Yusuke Ohyama, Tigers
Second Base: Takumu Nakano, Tigers
Third Base: Teruaki Sato, Tigers
Shortstop: Seiya Kinami, Tigers
Outfielders: Koji Chikamoto*, Tigers; Shogo Akiyama, Carp; Sheldon Neuse, Tigers
* = Withdrew due to injury
---
CL Manager/Peer Additions, Plus One (fan late choice)
Noboru Shimizu, RHP, Tokyo Yakult Swallows
Kazuto Taguchi, LHP, Swallows
Cy Sneed, RHP, Swallows
Katsuki Azuma, LHP, Yokohama DeNA Baystars
Yasuaki Yamasaki, RHP, Baystars
Shota Imanaga, LHP, Baystars
Trevor Bauer, RHP, Baystars (Plus One)
Koutaro Ohtake, LHP, Tigers
Shosei Togo, RHP, Yomiuri Giants
Aren Kuri, RHP, Carp
Nik Turley, LHP, Carp
Shinnosuke Ogasawara, LHP, Chunichi Dragons
Raidel Martinez, RHP, Dragons
Takumi Ohshiro, C, Giants
Sho Nakata, 1B, Giants
Shugo Maki, 2B, Baystars
Toshiro Miyazaki, 3B, Baystars
Hideki Nagaoka, SS, Swallows
Kazuma Okamoto, 3B, Giants
Keita Sano, OF, Baystars
Taiki Sekine, OF, Baystars
Seiya Hosokawa, OF, Dragons
---
Also getting recognition this week (for their work in June) were the players of the month.
Kazuma Okamoto, 3B Giants: .309/.437/.706, 7 HR 19 RBI
Trevor Bauer, SP Baystars: 30.1 IP 4 W 0 L 2.08 ERA 38 K
Yuma Tongu, 1B Buffaloes: .372/.444/.731, 7 HR 12 RBI
Sachiya Yamasaki, SP Buffaloes: 27 IP 4 W 0 L 2.33 ERA 21 K
---
In extremely brief team news, the Hiroshima Carp have moved up to second place in the Central. The Hawks have lost nine straight for the first time in 27 years, and the Fighters have lost 10 in a row. On the other hand, the Eagles have won 10 of their past 11.