Here we are with just a few days left in August. The regular season will be over in roughly five weeks, and even better, the JapanBall tours will be starting in two weeks' time! Before we talk about the NPB week that was, we should congratulate Keio High School (Kanagawa Prefecture) for winning the annual summer national high school baseball tournament (also known as Koshien). It was the school's first championship in 107 years. They defeated last year's champs, Sendai Ikuei (Miyagi Pref) 8-2 on Wednesday afternoon. Now on to the pro baseball action!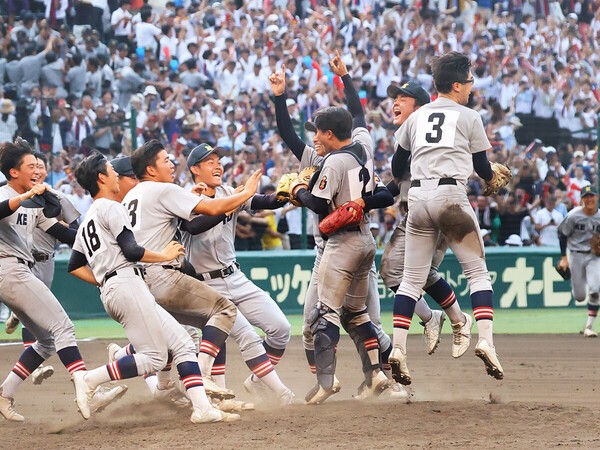 ---
For all intents and purposes, two teams from each league are not in contention for playoff spots, barring a miraculous late-season charge. In the Pacific, the fifth-place Hokkaido Nippon-Ham Fighters and last-place Saitama Seibu Lions are 6 and 6.5 games out of third place respectively. In the Central, it is even bleaker. The Tokyo Yakult Swallows are a full 10 games out of the last playoff spot, while the Chunichi Dragons are 14.5 off the pace. With all due respect to their efforts so far this year, let's focus on the other eight teams, shall we?
Tohoku Rakuten Golden Eagles. Last week: 3-2. Ryosuke Tatsumi helped his team pull even closer to the third playoff spot, hitting an RBI double in the tenth inning to walk off the Hawks on Friday night. They currently sit just two games behind those Hawks.
Fukuoka SoftBank Hawks. Last week: 1-5. The lone bright spot on the week came on Wednesday, as the bats put up five late runs (including a Kensuke Kondoh home run in the 8th) to beat the Marines by a 9-5 score. Despite the skid, they trail the Marines by four games.
Chiba Lotte Marines. Last week: 2-3-1. On Wednesday, Gregory Polanco hit three home runs in a losing cause. The team made up for it on Thursday, though, coming from behind against the Hawks by scoring five unanswered runs to come all the way back from an 0-4 deficit to win 5-4.
Orix Buffaloes. Last week: 5-0-1. In their near-perfect week, lefty Hiroya Miyagi shone the brightest. On Thursday, he threw a complete-game shutout and fanned 12 batters as his team blanked the Lions 5-0. They lead the Marines by 10.5 games and have a magic number of 22.
---
Yomiuri Giants. Last week: 4-2. On Tuesday night, Yoshihiro Maru and Lewis Brinson hit back-to-back home runs, accounting for two of the team's five runs in the eighth inning as the team beat the Swallows 8-4 – the first of three straight wins against the Swallows.
Yokohama DeNA Baystars. Last week: 3-3. Trevor Bauer notched his tenth win, as his mates went to town on the Dragons on Friday night, scoring 18 runs, including 10 in the ninth inning. They currently sit just a half-game ahead of the Giants for the final playoff spot while trailing the Carp by 5.5 games.
Hiroshima Toyo Carp. Last week: 4-1-1. Righty Aren Kuri (who reportedly aspires to try MLB next season) threw his third complete-game shutout against the Baystars on Tuesday, helping his team start off its week on a strong note. Despite the impressive week, they gained no ground on the Tigers and remain seven games back.
Hanshin Tigers. Last week: 4-1. Shortstop Seiya Kinami hit his first home run of the season but it counted big as he cleared all the bases at Tokyo Dome on Saturday. He added two more RBIs to bring his total to six in the team's 9-5 win over the Giants. Their magic number is down to 21.
So it looks like the two Kansai teams are going to win their respective leagues, barring an opponent's fierce charge and/or their own colossal meltdowns. It would mark the first time since 1964 (Hanshin Tigers, Nankai Hawks) that two teams from the Osaka region finished atop their respective leagues.