Great news, NPB fans! Shout for joy! It seems the league is working towards the possibility of allowing fans to express themselves vocally at games again in 2023! Other things that will delight you are the announcements of the Best Nine teams for each league, as well as the rest of the NPB Awards.
Pacific League Best Nine
P: Yoshinobu Yamamoto, Orix Buffaloes (2nd)
C: Takuya Kai, Fukuoka SoftBank Hawks (3rd)
1B: Hotaka Yamakawa, Saitama Seibu Lions (3rd)
2B: Hideto Asamura, Tohoku Rakuten Eagles (6th at 2B)
3B: Yuma Mune, Buffaloes (2nd)
SS: Kenta Imamiya, Hawks (3rd)
OF1: Go Matsumoto, Hokkaido Nippon-Ham Fighters (1st)
OF2: Yuki Yanagita, Hawks (7th)
OF3: Hiroaki Shimauchi, Eagles (1st)
DH: Masataka Yoshida, Buffaloes (1st at DH)
Central League Best Nine
P: Koyo Aoyagi, Hanshin Tigers (1st)
C: Yuhei Nakamura, Tokyo Yakult Swallows (3rd)
1B: Jose Osuna, Swallows (1st)
2B: Shugo Maki, Yokohama DeNA Baystars (1st)
3B: Munetaka Murakami, Swallows (1st at 3B)
SS: Takumu Nakano, Tigers (1st)
OF1: Koji Chikamoto, Tigers (2nd)
OF2: Keita Sano, Baystars (2nd)
OF3: Yuki Okabayashi, Chunichi Dragons (1st)
The big silverware was handed out on Friday night, and to no one's surprise, we had two repeat winners of the league MVP Awards.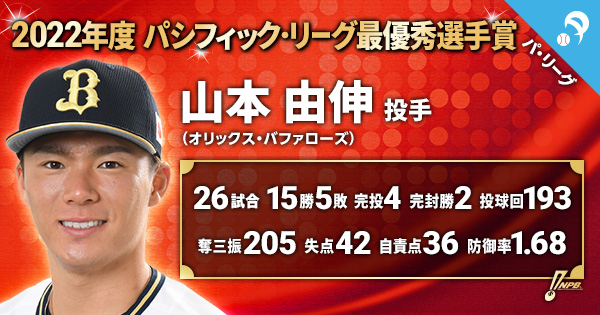 Orix ace Yoshinobu Yamamoto defended his Most Valuable Player title with another outstanding season that saw him win his second straight Eiji Sawamura Award, going 15-5 with a 1.68 ERA and 205 strikeouts in 193 innings of work. He is still just 24 years old.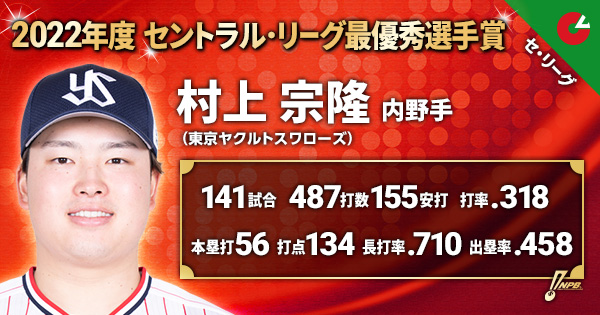 Yakult slugger Munetaka Murakami also won MVP for the second straight year. The 22-year-old set a new record for Japan-born hitters with 56 home runs, and also led the league in batting average (.318) and RBIs (134).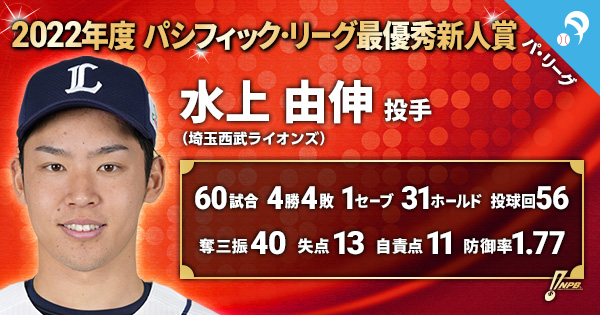 As for rookies of the year, both awards went to relievers. In the Pacific, Lions' set-up man Yoshinobu Mizukami took the honors for his 4-4 record with a 1.77 ERA, 40 strikeouts, and 31 holds in 56 innings. In the Central, Taisei (Ohta) of the Yomiuri Giants went 1-3 with 37 saves and 8 holds to go along with 60 strikeouts and a 2.05 ERA in 57 innings of work.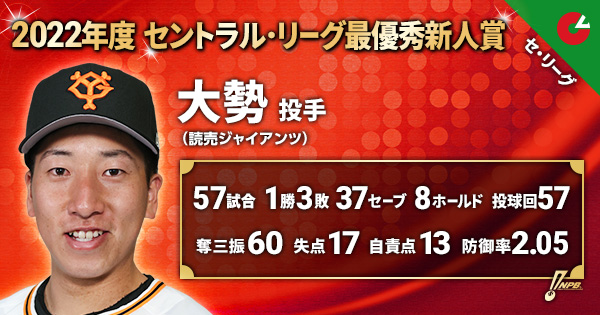 The hot stove is just heating up, folks! In the final two newsletters of 2022, we hope to announce some big signings on both sides of the ocean. Stay tuned!