The summer heat must be getting to last year's runner-up teams. The baseball they have played in recent weeks is simply inexplicable. And yet despite the Hanshin Tigers (Central) and Chiba Lotte Marines (Pacific) stumbling mightily, other factors have allowed them to remain in the picture for a playoff spot at the very least, and a shot at the league title if they can turn their ships around.
The Tigers came out of the all-star break winning three straight series but bowed to the Yokohama DeNA Baystars and Chunichi Dragons in the middle of their "road of death" (their home ballpark, Koshien Stadium, is being used for the national high school tournament for much of August). During these six games, they were shut out three times (bringing their season total to 21) and committed more errors (11) than the number of runs they produced (7). It does not help that they lost three core players (#2, 3, 5 hitters Takumu Nakano, Koji Chikamoto, and Yusuke Ohyama, respectively) to Covid-19, and barely have enough active position players to field a top-squad team. Their farm squad does not have enough men to field a team anymore because of all the injuries and Covid cases, meaning they are essentially playing with half their roster occupied by farm hands. Owing to the Yakult Swallows struggles since the all-star break (they finally snapped a 7-game losing streak on Sunday), the Tigers sit in fourth, a single game out of the playoffs and 10 out of first.
Meanwhile in the PL, the Marines have yet to win back-to-back games since the all-star break. They have gone 2-11 during this stretch and their once formidable pitching is at least partially to blame. This past week, the hurlers were adequate but not their dominant selves. Starters Enny Romero (6 IP 3 R) and Roki Sasaki (6 IP 2 ER) had subpar outings by their standards, and closer Naoya Masuda gave up a run in two consecutive games as well. Their lone win on the week came off the bat of "Mr. Sayonara" Hiromi Oka, who singled home the walk-off run in the bottom of the ninth on Friday night against the Hokkaido Nippon-Ham Fighters. The Marines are five games out of the playoff picture at present but just 7.5 games back of the first-place Saitama Seibu Lions. Fortunately for the Marines, the entire Pacific League seems to be taking turns beating up on each other, so their recent stretch has not been fatal.
NPB announced the players of the month for July last week. They are as follows:
PL Pitcher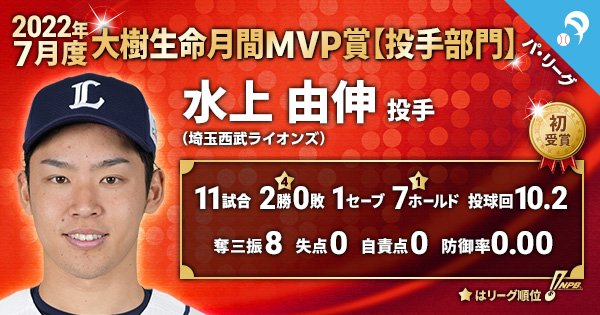 ---
PL Hitter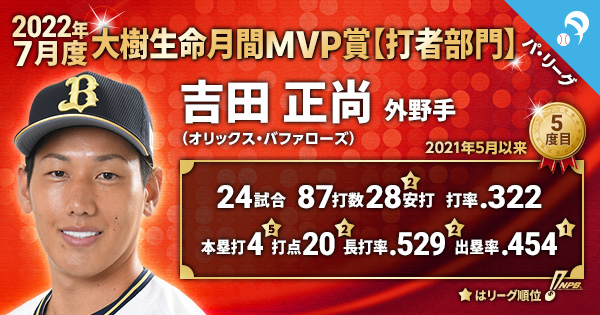 ---
CL Pitcher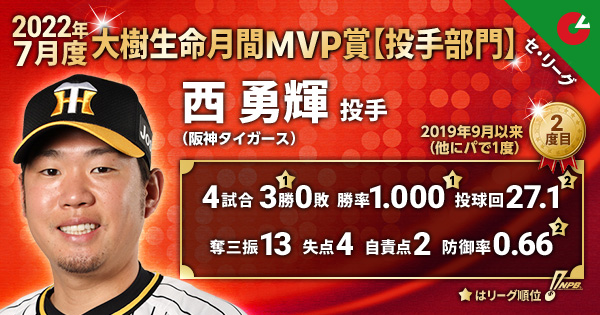 ---
CL Hitter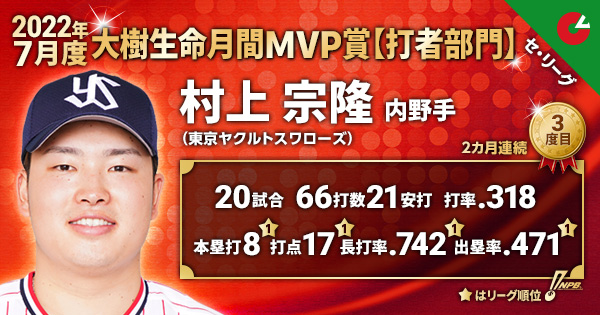 ---
Good Week: Baystars (4-1), Fighters (3-1-1)
Bad Week: Tigers (0-6), Marines (1-4), Swallows (1-4)