The regular season is still quite young (over 100 games to play), but the standings are starting to take shape and it is starting to become apparent which teams are strong, and which teams are not. Here are some of the highlights of the past week of Nippon Professional Baseball.
---
Tuesday: Yokohama DeNA Baystars starter Trevor Bauer was coming off a rough outing the previous week, but hit rock bottom against the Hiroshima Carp. He lasted just two innings, giving up seven runs (all earned). The Carp won 7-5. There was talk of starting Bauer on short rest on Sunday (yesterday) and the team did just that, but it was on the farm. Bauer went six innings, allowed one run, and struck out 10 while scattering eight hits.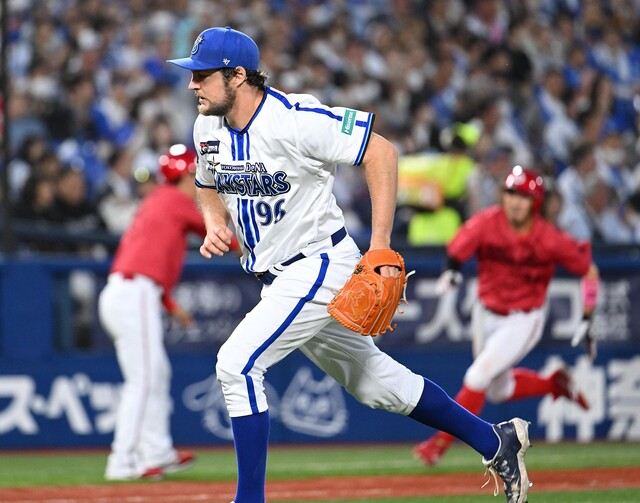 Wednesday: Hokkaido Nippon-Ham Fighters' righty Naoyuki Uwasawa shut out the Saitama Seibu Lions, striking out nine batters. For their part, the Fighters bats provided three runs of support in the fifth inning, giving the Fighters a 3-0 win.
---
Thursday: The Chiba Lotte Marines defeated the Orix Buffaloes 5-1 on this bullpen day, and combined with their tie and win earlier in the week, gained two games on the defending champions to take over the top spot in the Pacific League.
---
Friday: The Fighters continued to roll, as lefty Takayuki Katoh threw eight shutout innings of four-hit ball and closer Seigi "Justice" Tanaka threw a clean ninth inning against the Buffaloes. A single run in the eighth inning (an RBI single from Alen Hanson) was all the scoring they needed. The Fighters currently sit in fourth place in the PL.
---
Saturday: The Hanshin Tigers continued their winning ways. Just one day after the Carp snapped their seven-game winning streak, they used strong pitching from Koutaro Ohtake (0.48 ERA in 37 2/3 innings on the year) to keep the game scoreless through eight innings. With two outs in the bottom of the ninth, rookie Shota Morishita ruined Carp ace Masato Morishita's shutout bid by singling home the only run of the game. The Tigers sit in first place, two games ahead of the Baystars.
---
Sunday: The Tigers aren't the only hot team in the CL. The Yomiuri Giants completed their perfect week, beating the Chunichi Dragons 5-2. Sluggers Adam Walker and Kazuma Okamoto each hit a two-run home run in the win. The Giants not only crawled above .500 for the first time since Opening Weekend, they also moved into third place in the CL. For their part, the Dragons have now lost seven straight and are a distant last.
---
Good Week: Giants (5-0), Marines (4-0-1), Tigers (5-1), Baystars (3-1-1)
Rough Week: Dragons (0-5), Swallows (0-4-1), Buffaloes (1-4-1), Eagles (1-3)